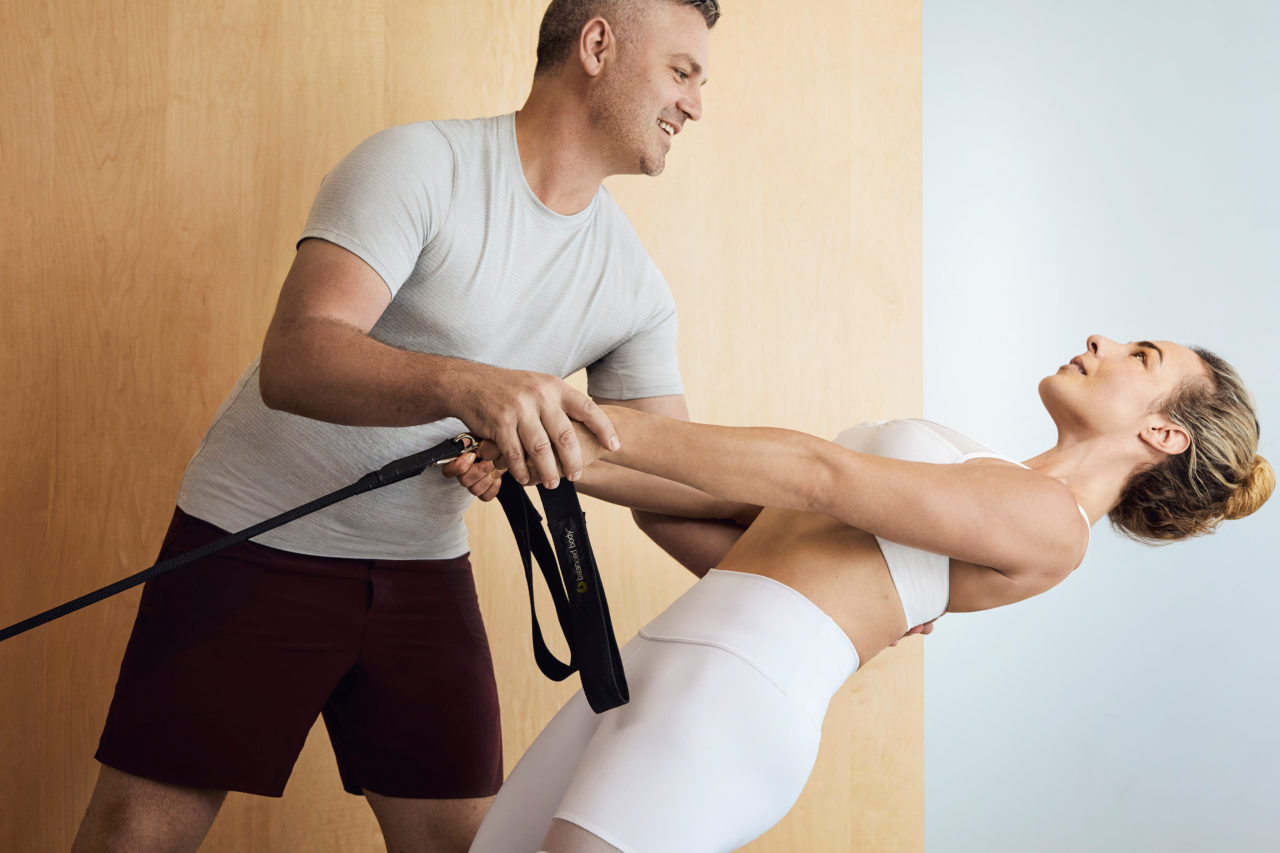 Sally Anderson
Sally's career as a movement practitioner began over thirty years ago as a natural progression of her background in dance, theatre, and focus on health.
A leader in her field, she established the first-ever government-accredited Pilates specialist courses, setting the benchmark for the Australasian industry, and creating a world-first articulation to Bachelor health science degrees in 2013.
Sally is an internationally renowned practitioner and travels across the globe to deliver and promote education and training. She is dedicated to education and knowledge-sharing, collaborating with fellow practitioners and health experts to support the physical and mental wellbeing of the entire community.
Reach is Sally's mission to bring better health to the community through deep engagement with practitioners as a primary pathway to helping society move well and reach optimal health. Creating a knowledge centre designed to educate and empower experienced movement practitioners, she has always aspired to lift the quality and professionalism of the industry by keeping pace with the most cutting-edge, evidence-based research.
Qualifications include Adv Dip Pilates; Adv Dip Management;  Cert Nutrition; Adv Dip Medical Nutrition
Shauna Hall
Arguably one of the world's leading movement specialists, Shauna's genius is an ability to turn all her knowledge into practical, usable movement programs that target complex conditions and disease factors, while keeping everything fun. Shauna's Vital Health series includes practitioner training courses for 'The Ladykillers – targeting the most prolific diseases that kill women', and 'Modern Menopause', 'Exercise and Depression', 'Spinal Fitness' and 'Dealing with Psychosocial Stress'. Shauna's addition of pharmacological studies provided her the opportunity to undertake a comparative assessment of antidepressant medication versus physical exercise as a modality for effective treatment for minor to moderate depression.
Qualifications:  MA Women's Health, MA Public Health, Post-grad Clinical Pharmacology, BA Arts (Dance), Reg Nursing Sister; Advanced Diploma Pilates, Cert Yoga
Andrew Aroustian
Having travelled and taught for many years in Paris and other regions of Europe, Andrew has studied several movement modalities that combine to give him a broad approach to corrective movement and conditioning. Specialising in joint and postural care as well as elite training applications, he was invited to share his analysis of SIJ dysfunction as part of a comprehensive SIJ program in 2018. As a teacher-trainer, he has travelled extensively to deliver advanced mentorship and training in a variety of studios across the world.
Qualifications: Adv Dip Pilates; BA Dance; Cert Xtend Barre
Sonia Crisafulli
Since the late 1990's Sonia has delivered teacher training extensively throughout Australia and the UK, culminating in her role as Associate Director of Curriculum for PilatesITC RTO NO 40941. She holds Advanced Diploma Pilates, BA Dance, Pre and Post Natal Specialist Certification, and Cert Training and Assessment. She specialises in Women's Health as well as musculoskeletal and postural retraining, and is a highly sought-after teacher trainer and assessor.
Qualifications: Adv Dip Pilates; Cert Womens Health; BA Dance
Kerry Etkin
Kerry owns and directs Align Physiotherapy and Pilates practice with an integrated mix of therapies and movement for rehabilitation. She holds a BA Science (Phys) and Post Graduate Diploma in Upper Limb Injuries, Advanced Diploma Pilates and certifications in Gyrotonics, Visceral Therapy and more. She ran the Hand Therapy unit in a private hospital in Johannesburg for several years and specialises in the therapeutic application of movement and exercise for upper limb dysfunctions, hypermobility, visceral health and general rehabilitation. See more at http://align.net.au
Qualifications: BA Science (Physio); Post grad Upper Limb; Dip Pilates; Cert Gyrotonics
Marisa Traino
A senior and leading physiotherapist at Royal Prince Alfred Hospital, Marisa holds BA Science (Physiotherapy) and Diploma Pilates, is the Course Coordinator in Wound Management for Hand Therapist and a member of the RPAH Would Management committee. She leads adult antenatal classes for parent education focusing on women's health, back care, pelvic floor training and core muscle training techniques, and specialises in neurological applications to movement for client rehabilitation.
Qualifications: MA Science (Physio); Dip Pilates
Lanette Gavran
Lan has been instrumental in the development of formal Pilates and fitness training in Australia since 1986 including the articulation of the Advanced Diploma of the Pilates Method articulation to BA Health Sciences at University Canberra in 2013. She was the first student to articulate through this program into the BA Exercise Science. Lan owns and runs Pilates Canberra studios and specialises in the development of training programs based in cutting-edge research for musculoskeletal rehabilitation.
Qualifications: Adv Dip Pilates; BA Ex Phys (Health Sciences, current)
Lisa Jackson
Australasia's mistress of bone health and movement applications for osteoporosis and osteopenia, Lisa is a Master trainer for Buff Bones and a highly in demand teacher trainer. Her empathy and supportive nature is only matched by her smarts and attention to detail. Lisa also lectures specifically on the hip joint, bringing accessible practitioner programs to a range of hip joint issues and care.
Lisa is founder and director of Core Pilates Brisbane.
Qualifications: Adv Dip Pilates