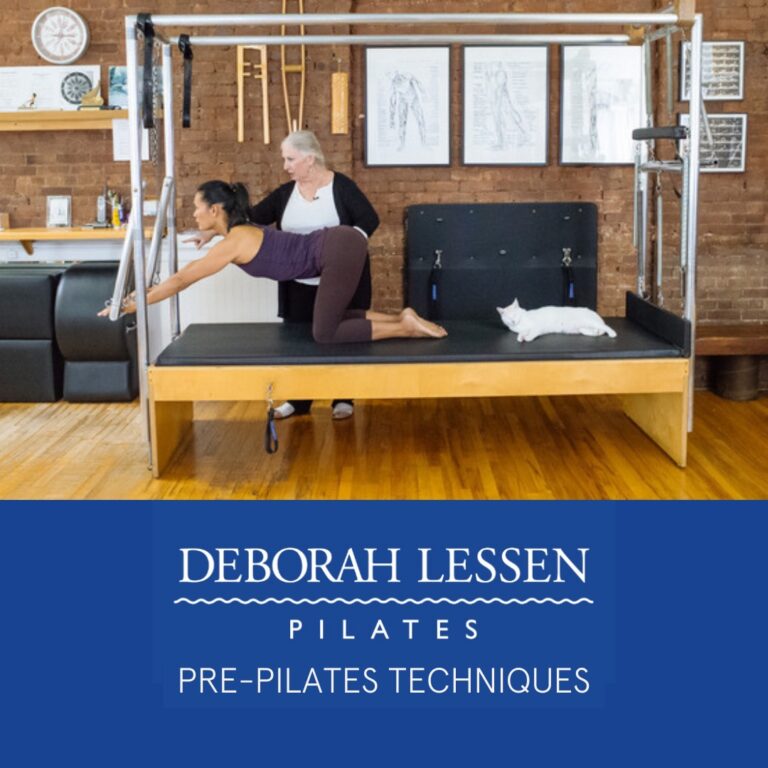 The one and only Deborah Lessen presents a closer look at the essential Pre-Pilates repertoire.
Deborah is the 'teachers' teacher'.  In constant demand to share her expertise and exceptional industry experience, this short course offers the opportunity to work with Deborah to deepen your Pilates teaching abilities and learn from her approach and incredible wealth of experience.
Pre-Pilates Techniques
Launching in 2023, the Pre-Pilates Techniques offers the unique opportunity to work with Deborah to deepen your understanding of the essential pre-Pilates work, exploring how it relates to movement function and how it progresses into and provides the basis for the full Pilates Method repertoire.
Drawing from her extensive experience and her lineage with Joseph Pilates first protégé Carola Trier, Deborah is a master of the Pre-Pilates work and sees these exercises as essential tools for being a successful Pilates teacher. Read more about Deborah's extraordinary career in movement and as a Pilates industry leader and professional influencer HERE.
Recommended prior to registration
This course is aimed at deepening your understanding of the pre-Pilates repertoire as tools for your teaching. We recommend you have been teaching for some years after obtaining your certification. This professional experience gives teachers a grounding in  working with clients over an extended time and a perspective for taking on the true value of pre-Pilates work. However, the course is open to anyone with comprehensive certification who is teaching in the Pilates profession.
The Course
Online Content
Deborah is joined by none other than Blossom Leilani Crawford demonstrating the repertoire as Deborah teaches and discusses the application of each exercise.
Included in the online content are also two Mat Classes:
Pre-Pilates Matwork class taught by Deborah and integrating the pre-Pilates exercises, demonstrated by Blossom, Lanette Helene and Andrew Aroustian.
Intermediate-Advanced Mat Class demonstrated by Pilates teacher Zoe Feldman, giving you an opportunity to see where the exercises lead, and to do this class as your own practice if you choose.
Live Online
As part of this course you will have the opportunity to do two (2) live online sessions with Deborah, covering:
an introduction to the Pre-Pilates work
Deborah's teaching methodology to apply with all movement
Pre-Pilates/Pilates Mat Class experience
opportunity to have dialogue and Q&A's with Deborah
Dates
Presented in a blended format of Online Curriculum and live session with Deborah via Zoom, Enrolment and Zoom dates are as follows.
Between zoom sessions participants are expected to work through the online content and undertake consistent self practice before completing the final Zoom session.
---
Course Schedule
Final enrolment date:  26 May 2023

Earlybird enrolment is up until midnight 30 April
Regular enrolment from 1st May to midnight 26 May

Online Part 1:
Live Online Session 1: 2/3 June 2023. See times below for your location.

This session will be recorded and available for review for 7 days from issue.

Online Part 2: You will be provided access to these lectures from the day after your live online Part 1 session.

Pre-Pilates repertoire lectures.
Compulsory weekly practice of the repertoire.

Live Online Session 2: 11/12 August 2023

Pre-Pilates Mat Class
Selected exercise review
Q&A with Deborah
---
Live Online – Zoom Sessions
Zoom session scheduled dates are as follows. Please scroll down for global time conversions for each of these scheduled dates:
Session .1.
USA 2 June 2023  |  Australia 3 June 2023  |  Asia 3 June 2023 |  UK  2 June 2023
Session .2.
USA 11 August 2023  |  Australia 12 August 2023  |  Asia 12 August 2023  |  UK 11 August 2023
Included in each registration is attendance at the  Zoom sessions. You will receive your Zoom links upon registration and in reminder just prior to each session. Each zoom session will be recorded and supplied for 7 days access.
---
Completion
This Pre-Pilates Techniques course with Deborah Lessen requires each of these components to be complete in order to receive your final certificate.
Complete online curriculum including watch all videos (compulsory), read the text and download any resources
Successfully complete the online quiz for which  you will have 4 attempts to achieve a 80% or greater pass mark
Undertake the practical Zoom sessions and/or review the recording prior to completing the online assessment.
Successful completion of the online multiple choice assessment.
Completion of these components will provide a Certificate of Completion and awards 9 CECs with NPCP. You may also submit your final Certificate to your preferred industry body and request continuing education credits.
---
Cost
Earlybird
Register prior to midnight 30 April 2023 for the early bird cost of US$ 395.00
Regular
Register from 1st May 2023 at the regular registration cost of US$ 495.00
Note
Prior to registering you are required to read and understand our TERMS of participation.
Registrations for this course close at midnight 26 May 2023.
Find your Zoom Time Zone
Zoom Session .1.
USA & CANADA
EDT
Friday 2 June 2023, 6-8.30pm
PDT
Friday 2 June 2023, 3-6.30pm
CDT
Friday 26 May 2023, 5-7.30pm
MDT
Friday 2 June 2023, 4-6.30pm
HST
Friday 2 June 2023, 12-2.30pm
AUSTRALIA
AEST
Saturday 3 June 2023, 8-10.30 am
AWST
Saturday 3 June 2023, 6-8.30 am
ACST
Saturday 3 June 2023, 7.30-10am
ASIA & PACIFIC
SGT, MYT, CST, HKT
Saturday 3 June 2023, 6-8.30 am
KST
Saturday 3 June 2023, 7-9.30 am
IST
Saturday 3 June 2023, 3.30-6am
ICT
Saturday 3 June 2023, 5-7.30am am
UK & ME
BST
Friday 2 June 2023, 11pm-1.30am
CEST
Saturday 3 June 2023, 12-2.30am
Middle East
IDT
Saturday 3 June 2023, 1-3.30am
USA & CANADA
EDT
Friday 11 August 2023, 6-8.30pm
PDT
Friday 11 August 2023, 3-6.30pm
CDT
Friday 11 August 2023, 5-7.30pm
MDT
Friday 11 August 2023, 4-6.30pm
HST
Friday 11 August 2023, 12-2.30pm
AUSTRALIA
AEST
Saturday 12 August 2023, 8-10.30 am
AWST
Saturday 12 August 2023, 6-8.30 am
ACST
Saturday 12 August 2023, 7.30-10am am
ASIA & PACIFIC
SGT, MYT, CST, HKT
Saturday 12 August 2023, 6-8.30 am
KST
Saturday 12 August 2023, 7-9.30 am
IST
Saturday 12 August 2023, 3.30-6am
ICT
Saturday 12 August 2023, 5-7.30am am
UK & ME
BST
Friday 11 August 2023, 11pm-1.30am
CEST
Saturday 12 August 2023, 12-2.30am
Middle East
IDT
Saturday 12 August 2023, 1-3.30am